Headstand Workshop
This e-mail address is being protected from spambots. You need JavaScript enabled to view it

Next workshop schedule:
If you've ever been afraid of trying Sirsasana or the headstand, here is your opportunity! You will learn the proper technique of performing a headstand in various stages. Jumping into a headstand is definitely not the way to go! Performing the headstand in various stages not only ensures that you will master the technique, but will also prevent any injuries. Build self-confidence and feel a sense of accomplishment.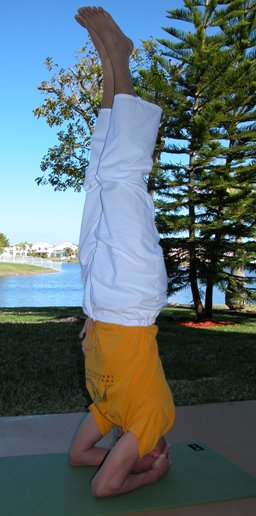 The headstand is known as the "king of all asanas." It is believed that if you master the headstand, you master space and time! The benefits of doing a proper headstand are immense. First, this is probably the only posture one can hold in order to give the heart much needed rest.

If you already have a practice of the headstand, you will learn variations while holding the headstand. If you're comfortable doing those, you may then attempt Vrschikasana or the Scorpion posture.

After the workshop, you will receive a CD with the following:


Video file with demonstration of proper technique
Document with instructions and benefits
An electronic Certficate of Participation
Even a video recording of your session!
CAUTION: The headstand may not be practised if you have any one of the following:
High Blood Pressure
Glaucoma, Detached Retina or recent eye surgery
Four or more months pregnant
Recent neck injury
Severe blocked nose, headache, or in the midst of an asthmatic attack
As always, if you're not sure, please check with your physician before participating in the workshop.