Introduction to Meditation Course
This e-mail address is being protected from spambots. You need JavaScript enabled to view it
Develop Concentration. Develop Inner Stability. Manage Stress!

This a 4 class course. Next course schedule: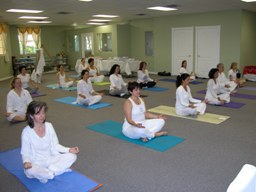 This course will help you to understand the nature of your mind. Learn how to improve your concentration and develop inner stability. You will learn the basic techniques of meditation with a goal to establish a daily practice. Needless to say, a regular practice of meditation will help you to manage stress in your daily life.
Counter the Effects of a Desk Job
This e-mail address is being protected from spambots. You need JavaScript enabled to view it
Simple exercises, great benefits!
This is a 1 session workshop. Next workshop schedule:
Learn several simple exercises that can be performed at home and some at your desk to counter the effects of a desk job. These exercises are simplified versions of some of the Yoga asanas (postures). Although not a replacement for a regular Yoga practice, this workshop is designed for individuals who do not have time for any form of exercise including Yoga, or are hesitant to practice Yoga.