Pranayama Course
This e-mail address is being protected from spambots. You need JavaScript enabled to view it
Presented by Aditya Gir, E-RYT, YACEP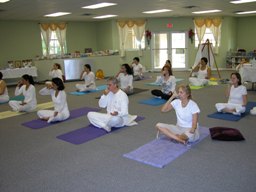 This 4-session course is held over 2 weekends. Next course schedule:
| | | |
| --- | --- | --- |
| Day | Date | Time |
| Saturday | 04/07/2018 | 7:30 am - 9:30 am |
| Sunday | 04/08/2018 | 7:30 am - 9:30 am |
| Saturday | 04/14/2018 | 7:30 am - 9:30 am |
| Sunday | 04/15/2018 | 7:30 am - 9:30 am |
Cost: $160.00
NOTE: *** Yoga Teachers earn 8 CE credits ***
Pranayama is one of the 8 limbs, stages or aspects of Yoga. "Prana" is the life force within us and "ayama" means to regulate. Prana flows through thousands of energy channels (nadis) and energy centers (chakras) in our bodies. Pranayama is the regulation of the prana using the breath.

A regular practice of Pranayama helps to:
Reduce stress
Become more energetic, enthusiastic and positive
Bring harmony between mind, body and spirit
Become stronger physically, mentally and spiritually
Experience more confidence
Improve interpersonal skills
Prepare the body and mind for meditation
This one of a kind course is a great opportunity for you to have a truly invigorating and rejuvenating experience! You will learn / review the basics of proper breathing. In our regular Hatha Yoga classes we practice Kapalabhati and Anuloma-Viloma. We will practice these as well as some of the more advanced breathing exercises. Over a dozen in total. The course will cover proper technique and also cover in detail the benefits of each exercise.
Click on the button below to reserve your spot today!
Pranayama is useful for everyone, but especially useful for pro-athletes as it improves endurance and increases lung capacity. Even more so for swimmers. It is also useful for professionals who use their voice such as singers, reporters, radio jockeys, etc. as it enhances voice quality. Be sure to read the article Benefits of Pranayama for more information on the benefits of pranayama and the progressive nature of Yoga.
One of the Yoga masters of our times, Sri BKS Iyengar, describes pranayama as follows:


Prana means the breath, the air and life itself. But in Yoga, prana is the very essence of the energising principle of the animate and inanimate world. It pervades the whole universe. And pranayama means the full control of that energising principle in one's own being by a certain discipline. This discipline aims not only at good health, an equilibrium in the physical and vital energies, but also the purification of the whole nervous system in order to make it more capable of responding to the will of the Yogi in controlling the sense-urges, and in making the mental powers more subtle and sensitive to the call of the evolutionary urge, the higher divine nature in man.
What to expect
The course is comprised of 4 sessions. Each session is progressively more challenging. The first three sessions are spent on learning over a dozen Pranayama exercises. The final session is a run-through of all the excersizes learned in the first three sessions. In most cases the results are amazing! Please note that space is limited for this course. Reserve your spot early.
Prerequisite
We highly recommend that a student practice our regular Hatha Yoga classes for 6 months to a year before attempting this workshop. Our classes prepare the student for this workshop, both physically and mentally. However, we don't impose any restrictions. If you are comfortable, you may attend this course.
Caution
Some of the exercises are intense. This course is not recommended for those who have had recent surgery or have any types of heart conditions. It is also not recommended if you are currently suffering from Hernia. High Blood Pressure, if not under control, may also limit your participation. On the other hand, some of the exercises are in fact beneficial for High BP sufferers. As always, if you are not sure, please consult with your physician before participating in the course.
Testimonials
Here are some comments provided by past participants:
I breathe better than with the asthma medications! I am more peaceful and relaxed while in the midst of great changes in personal life. Thanks so much! - Barbara R.
After the workshop I feel awesome, joyful, and peaceful. The anxiety and stress before started it were gone. I feel connected with the universe. Thanks a lot! - Adriana B.
Incredible experience! It was beyond expectations. I didn't want to leave the class. - Brenda V.
The Pranayama course was very helpful for learning / practicing the Pranayama techniques. I had been searching for instruction and was so happy to have found a knowledgable teacher! - Rebecca W.
This has been a great & different experience for me. Very helpful in my spiritual growth. I do appreciate your effort & time to put together these courses. - Cecilia T.
Thank you! I really enjoyed it very much. I feel clearness of mind and calmness. During the session I felt the urge to smile. It was a very positive experience for me. Thank you again! - Yvonne R.
It was a wonderful experience, very relaxing and energizing at the same time. The instructor is great, very graceful, and peaceful. - Margot S.
It has been healing! You come to the class with a "heavy mind" and once you are "in" the exercises you are transported to another level of mind...excellent! - Belkis Q.
This course has benefitted me mentally and physically. I feel more mindful and happier. Also, at home and work my relationships with others have improved. - Yolanda P.
Really, I'm very happy to be in this course, and I think it was very very healthy!! - Mirta F.
The sessions/exercises were well spaced out and well explained. Very good demonstration. Thank you for offering your time, knowledge and experience with us. - Jeanete D.