Welcome to Pranoga - Leading Yoga Studio in Doral
We offer a true and complete Yoga experience. Our goal is to help you achieve a healthier lifestyle.

Start with our Yoga classes and then deepen your practice with our specialized Yoga courses and workshops. Located in Doral, Florida and close to Sweetwater,

West Miami,

Kendall, Hialeah, and Miami.
Take charge of your health and well being today! This e-mail address is being protected from spambots. You need JavaScript enabled to view it or give us a call.
Creative Teaching Workshop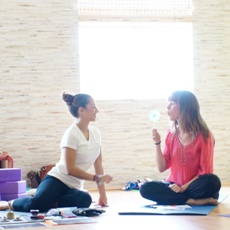 Date:
Saturday, November 14, 2015
Time:
3:00 pm - 5:00 pm
Cost:
$35
Creative Ways to Teach Children
Focusing on Yoga related exercises, this workshop will provide tools that will help you engage with children of all capacities. With the use of music, games, Yoga poses, story telling and self awareness, we provide an environment that fosters positive learning and growth.
This workshop is for teachers of all backgrounds, parents, therapist or anyone interested in working with children. We will review various areas of a typical children's Yoga class, and more specifically, we will focus on developmentally age appropriate activities and Yoga postures.
We look forward to your participation and awakening the child in you!
Taught by Bernardette Salgado, Director of Movement Yoga for Children.
Pranoga Welcomes Groupon Customers
Hello and welcome! Please follow the instructions below in order to redeem your voucher. Please register online to ensure a smooth process. Registration is free and takes just a few minutes. Registration must be completed whether you have purchased the voucher or someone gifted the voucher to you.
What makes our studio different?
We have always wondered how to express the uniqueness of our studio. Well, last week Teresa walked into our studio to check out the studio. Teresa was visiting from out of town and wanted to attend Yoga classes while she was down in Doral, and she chose our studio. She ended up attending 3 days in a row. On her last day, which was a Thursday, she was sad that we didn't have any classes on Fridays (maybe we will soon).
She had this to say: "I have been practicing Yoga for 11 years now, but I have learned so much in just 3 days.