Welcome to Pranoga - Leading Yoga Studio in Doral
We offer a true and complete Yoga experience. Our goal is to help you achieve a healthier lifestyle.

Start with our Yoga classes and then deepen your practice with our specialized Yoga courses and workshops. Located in Doral, Florida and close to Sweetwater,

West Miami,

Kendall, Hialeah, and Miami.
Take charge of your health and well being today! This e-mail address is being protected from spambots. You need JavaScript enabled to view it or give us a call.
Mala Making Workshop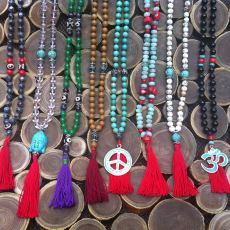 Date:
Saturday, July 11, 2015
Time:
2:00 pm - 5:00 pm
Cost:
$45
Mala Making with Mafer
A Mala is a set of beads commonly used by Hindus and Buddhists, usually made from 108 beads. Malas are used for keeping count while reciting, chanting, or mentally repeating a mantra or the name or names of a deity. This practice is known in Sanskrit as Japa.
In this workshop, you will learn how to make your own Mala beads while chanting mantras and bringing your awareness to your inner self, opening a space for observation and meditation.
The practice of making Malas with this consciousness will help you to learn how to focus, concentrate and elevate your vital energy.
All materials to make your personal Mala are included in the workshop. However, you may want to bring a little extra cash for extra beads, stones, or other accessories.
Creative Teacher Workshop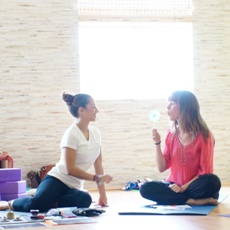 Date:
Saturday, July 18, 2015
Time:
1:00 pm - 3:00 pm
Cost:
$35
Creative Ways to Teach Children
Combining exercises and approaches from Yoga, dance, therapy and more, you will learn to engage and connect with children of all capacities. With the use of music, games, props and awareness of self, see how we can connect with children, providing a positive environment filled with learning.
This workshop is for teachers of all backgrounds, therapists, parents or anyone interested in working with children. If you have participated in last year's workshop, we will review concepts from last year's workshop and build on it, reviewing areas of progress and finding a moment to share best practices. We look forward to the collaboration of ideas and finding the child in us all.
Taught by Bernardette Salgado, Director of Movement Yoga for Children.
Pranayama Course
This e-mail address is being protected from spambots. You need JavaScript enabled to view it
Detoxify. Re-energize. Rejuvenate!
This 4-session course is held over 2 weekends. Next course schedule:
| | | |
| --- | --- | --- |
| Day | Date | Time |
| Saturday | 08/08/2015 | 7:30 am - 9:30 am |
| Sunday | 08/09/2015 | 7:30 am - 9:30 am |
| Saturday | 08/15/2015 | 7:30 am - 9:30 am |
| Sunday | 08/16/2015 | 7:30 am - 9:30 am |
Cost: $160.00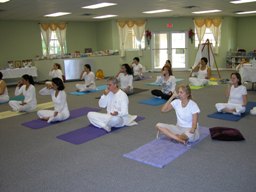 Pranayama is one of the 8 limbs, stages or aspects of Yoga. "Prana" is the life force within us and "ayama" means to regulate. Prana flows through thousands of energy channels (nadis) and energy centers (chakras) in our bodies. Pranayama is the regulation of the prana using the breath.

A regular practice of Pranayama helps to:
Reduce stress
Become more energetic, enthusiastic and positive
Bring harmony between mind, body and spirit
Become stronger physically, mentally and spiritually
Experience more confidence
Improve interpersonal skills
Prepare the body and mind for meditation
This one of a kind course is a great opportunity for you to have a truly invigorating and rejuvenating experience! You will learn / review the basics of proper breathing. In our regular Hatha Yoga classes we practice Kapalabhati and Anuloma-Viloma. We will practice these as well as some of the more advanced breathing exercises. Over a dozen in total. The course will cover proper technique and also cover in detail the benefits of each exercise.
Click on the button below to reserve your spot today!
Yoga and Happiness Retreat



September 17 -21, 2015

Join us for our 2nd Yoga Retreat! We are going back to where it all began. Our founder, Aditya, received his teacher training at the Sivananda Ashram Yoga Ranch in upstate New York in the Catskill mountains. The ashram (spiritual hermitage or monastery) is located on a 77-acre ranch with breathtaking views of the Catskill mountains.

This could be a life-changing experience for some. A definite must to better understand Yoga and to include various aspects in your practice.

You will be able to:

Enjoy the pure and fresh mountain air
Meditate in the stillness and quiet of the region
Energize and relax with Yoga classes
Attend inspiring talks and workshops
Enjoy freshly prepared organic food
Take leisurely walks to appreciate nature in and around the ashram
Participate in the daily Satsangs
Enjoy the view from the Russian-style sauna
Meet with Aditya's teachers, Mahadev Chaitanya and Srinivasan (a direct disciple of Swami Vishnu-Devananda, founder of the worldwide Sivananda centers and ashrams)

All this for an affordable price, based on accommodations of your choice!
Yoga Prenatal en Español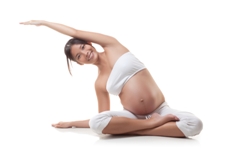 El Cuerpo de la mujer embarazada es el primer entorno del bebé. El bienestar que la madre experimente durante el embarazo, influye en el bienestar del bebé, por ello los aspectos físicos, emocionales y espirituales de la futura mama, son muy importantes.
Pranoga Welcomes Groupon Customers
Hello and welcome! Please follow the instructions below in order to redeem your voucher. Please register online to ensure a smooth process. Registration is free and takes just a few minutes. Registration must be completed whether you have purchased the voucher or someone gifted the voucher to you.
What makes our studio different?
We have always wondered how to express the uniqueness of our studio. Well, last week Teresa walked into our studio to check out the studio. Teresa was visiting from out of town and wanted to attend Yoga classes while she was down in Doral, and she chose our studio. She ended up attending 3 days in a row. On her last day, which was a Thursday, she was sad that we didn't have any classes on Fridays (maybe we will soon).
She had this to say: "I have been practicing Yoga for 11 years now, but I have learned so much in just 3 days.